Pet Air
Your Pet's Travel Agent
Do you have to fly pets. You have come to the right place. Pet Air has been flying pets since 1976. We work with many different carriers including Alaska Airlines, American Airlines, Delta Airlines, Continental Airlines, Frontier Airlines, Great Lakes Airlines, United Airlines, several cargo only airlines and more. We also offer pet delivery services throughout the USA.
If you have never shipped a pet before or have been shipping pets for years we feel we can help you out. Please visit our web site at flypets.com to find more information on our services, airports served, and special pet shipping prices.
Pet Air has a special program for Military personnel with PCS orders. You can find more information at militarypetshipper.com .
If you would like to receive emails about our special pet shipping rates you can sign up for our email list on our website or click on the box below.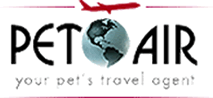 Tags: American Airlines, Continental Airlines, Delta Airlines, flypets.com, Frontier Airlines, Great Lakes Airline, http://www.militarypetshipper.com, PCS orders, pet air, pet shipping, shipping pets, United Airlines